Ghana
Be a part of life changing opportunities like Child Care, Community Development, Teaching, Medical project, Sport Development & More...
Ghana
Ghana - Quick Facts
Start Dates : All Year Round
Duration : 1-24 Weeks
Program Location : Accra , Axim & Tamale
Minimum Age : 17 years+
Certificate : Offered after Program completion
At a Glance
Currency Used : Ghanaian Cedis (GHS)
Language : English, Twi & Dagbani
Travel on Weekends to: Boabeng Fiema Monkey Sanctuary, Mole National Park and Kintampo Falls
5 Days Volunteer Work
Meet other like-minded travelers
Volunteer in Ghana
Be a volunteer in Ghana with Volunteering Solutions on a wide variety of meaningful and sustainable volunteer projects including Childcare, Teaching, Football Coaching, Girl Education, Community Development, Kindergarten, Medical volunteering & medical internships. For gap year travelers and backpackers, as well as for students looking for an apt summer/spring break volunteer program, there are amazing summer volunteer projects designed by the expert VolSol Team. Volunteer programs in Ghana are located in the capital city of Accra, Tamale in Northern Ghana and in Axim along the southern coast.
Highlights:
Experience the warmth and hospitality of Ghanaian people
11 volunteer and internship program options available in Tamale in Northern Ghana, capital city, Accra and Axim
Meaningful volunteering opportunities all year round from 1 to 24 weeks
Low-cost volunteer projects including airport pickup, meals and accommodation
Add on weekend tours available to Mole National Park, Kintampo Falls or Cape Coast
Best Volunteering Opportunities in Ghana
"'I volunteered for a month in Tamale and I can certainly attest this was a life changing experience. For those who might feel it is an unsafe country, it's not. Numbers actually tell Ghana is the safest country in West-Africa and I could see that with my own eyes.If you do like football, kids and helping others, Ghana is for sure the right place for you to live a real Africa experience"
"I can't even explain what an amazing experience I had in Tamale at the Girls Education Project. This experience truly changed my life as I built life long friendships with some of the incredible students. I cannot wait to return next year and see what more we can do to help the project"
Weekend Travel Options
Ghana is popular among travelers for its diverse wildlife, thick forests, secluded beaches, and old forts. Volunteers working in Tamale usually explore the city of Tamale and visit the Boabeng Fiema Monkey Sanctuary, Mole National Park, Larabanga Mosque etc. Volunteers working in Accra spend time in Accra and explore the city or can also head out to Cape Coast to relax on the beautiful beaches. You can also go for the local market visit with your hosts, over the weekend, in case you wish to take a closer look at the community and how it functions. You can also prepare your own travel bucket list and share it with us - we shall help you with planning!

Explore the Mole National Park - Located in Northern Ghana, this is the country's largest national park and it totally deserves a visit as you'll find the widest range of wildlife here. Because of the lack of predators, safaris can be done on foot – a unique experience that is quite different from the vehicle safaris in southern and eastern Africa. To actually walk so close to elephants is an exhilarating experience you will not ever forget!
Visit the Boabeng Fiema Monkey Sanctuary - Cool off in high pitched waterfalls and enjoy the freshness of nature while exploring the Boabeng Fiema Monkey Sanctuary. As the name suggests, you'll get to spot several primates in the wilderness, but not just that - you'll get to soak in the beauty of nature, seeking a much-needed break during the weekends.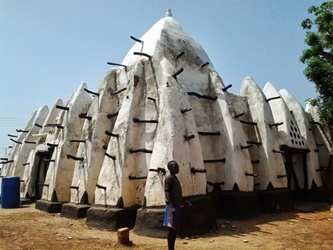 Visit the Larabanga Mosque - The largest and of the oldest mosque in Ghana, the Larabanga Mosque is also known as the "Mecca of West Africa".
In case you are heading off to Mole National Park during the weekend, you must visit the mosque as well which is located just about 4 kilometers south of the Mole National Park entrance.

If you have anything else in your bucket list or planning to go & explore any of the above-mentioned places, you can simply get in touch with our Travel Experts, who can guide you better in planning your weekend tours. Drop us a mail at [email protected] mentioning your choice of weekend adventures, and we shall cater your needs.
Frequently asked questions (FAQ's - Ghana)
FAQ's Application and Program Details

As we have limited spots available in our programs and we serve on first come first basis, it is recommended that potential volunteers book their programs well in advance to get confirmed placements. You can book your slot by filling the application form online and pay the application fee.You can pay your program fee later and also, in installments, however, the complete payment should be made 45 days prior the start of the program. If you are volunteering in a group, you can also fill a group application form.

After you complete your application, your personalized 'My Account' will be active.You will need to upload your CV/Resume along with your photo in the same. Our backend team and the placement site takes around 10-12 days to review your application. After we review your CV and documents, your booking is confirmed and booking confirmation is updated in your 'My Account'. Some projects need a mandatory criminal background check and the same is mentioned in the project info of your program. Approval of your application depends on your qualification and eligibility criteria for each project.

Every program has certain and prerequisites that are required to be fulfulled by the volunteers. Please refer to the respective program page for the detailed requirements.


We encourage our participants to volunteer in a group. We take special care in providing you a placement and also customize your itinerary to make sure you get exactly what you are looking for. Also, we can design special group programs for groups of 5 or more. Our programs are designed to be safe, affordable and offer a great group volunteering experience to the volunteers.

In our experience of more than 6+ years we have enabled and facilitated volunteer program placements for student groups- college groups, university groups, high school groups, group of families, group of couples as well as groups of colleagues.

Ghana is one of our popular destination among student groups and is highly recommended for family volunteering as well.

Volunteering Solutions offers projects in the capital city of Accra as well as in Tamale in Northern Ghana. Tamale is the fourth largest city in Ghana and one of the the fastest growing cities in West Africa.The Beach Conservation Project is located in Axim, which is a six hour drive from Accra.

Yes, we will provide you with the Certificate after successful completion of your program. The certificate is provided on request.

If you are planning to come for multiple programs in your trip, you will have to pay the application fees just once. Your application fee is valid for a year's time (from the date of application). You will not have to pay the application fees again if you come within the mentioned time frame.

For our returning volunteers, $50 discount is provided for the application fee for their next Vol Sol program.

Volunteers usually work for 5 to 6 hours a day for 5 days a week depending on their program needs. You will have the weekend off to explore in and around the city. However, volunteers need to be flexible, open minded and understand that work requirements can change as well on certain occasions.

Flights and Visa

All participants joining the programs in Ghana need to apply for Visa at the nearest Ghana Embassy. Along with the Visa application, you need to attach the required supporting documents. Volunteers are provided with all the necessary supporting document for their Ghana Visa application. More information shall be provided after you enroll yourself for our programs.

Kotoka International Airport in Accra has direct connections from North America and Europe. Delta Airlines, KLM Dutch Airlines, TAP Portugal, Turkish Airlines, Ethiopian Airlines, Kenya Airways, British Airways are some of the major airlines that have direct connections to Ghana.

Tamale is well connected to Accra having daily flights between the two cities. You need to book your flight to Accra and the connecting flight thereon from Accra to Tamale. Please get in touch with your program manager for more details.

Health and Safety

We recommend you to consult your physician or travel doctor before traveling to Ghana. All travelers are required to carry an International Certificate of Vaccination (Yellow Card) to show proof of yellow fever immunization.

The recommended vaccinations for volunteers traveling to Ghana are as follows:
Yellow Fever
Hepatitis A and B
Typhoid
Rabies

Ghana is a safe and stable country with relatively low crime levels compared to other West African countries. You'll meet some of the friendliest people in Ghana and their culture is a fascinating blend of traditional and modern.

However, as in any country around the world, you need to take certain precautions for safety. You will be given safety precautions and instructions by your coordinator during the orientation.

Yes, for all volunteers it is mandatory to have a travel medical insurance. To provide the best option to our participants, we offer comprehensive insurance coverage in collaboration with a leading insurance provider.

Connect with Past Volunteers

We encourage volunteers to get in touch with former Volunteering Solutions participants and also other program participants joining our projects. You are recommended to join the Volunteering Solutions Facebook Page or Facebook Group and connect with other participants and our team.

To read alumni interviews from past participants, visit ?the Meet a Volunteer section on our website.

Accommodation and Living

Your country coordinator will take you to your placement and introduce you to everyone after giving you a basic orientation about the program/city/culture etc. You will be given the directions to the project from your accommodation and will also be briefed on the mode of transport.

We provide a wide variety of program options in Ghana and the accommodations vary depending on the program choice.

In Tamale, Volunteers will be staying at a standard Ghanaian volunteer homestay managed by the local program coordinator. In case space is not available in the volunteer home, you will be accommodated with a Ghanaian Host family. Accommodation is either provided in an individual or shared room along with other volunteer.

In Accra, volunteers are provided accommodation in the volunteer house with other volunteers or in a host family depending on the program choice.

In Axim, volunteers stay with other volunteers as well as local staff in the Volunteer & Staff Village! There are bungalows in the village, located by the side of the beach. You'll share a room with one to three other folks. The rooms are basic but you'll be provided with all necessities.

At all project locations, two meals a day are provided to the participants.

Yes – please do ensure that you inform the local team about your food preference and they can help ensure you are able to order the best food! Also, please do mention your specific food preference in the application form as well.

Volunteers typically work for 5-6 hours in a day, for 5 days a week. However, depending on the workload every day, working hours can vary. Evenings are free for the volunteers and volunteers usually get together and go out for social gatherings, eat out or watch football games in Tamale stadium.
Weekends are free for the volunteers to explore the city. You can go for short weekend trips to Mole National Park, Monkey Sanctuary or Kintampo Falls.

We encourage our volunteers to travel. We have designed various weekend tours which can be booked under the Add-on Tours section in your 'My Account'. You in-country coordinator will also help you book and organize the tours once you are in the country.

Your program fee covers your accommodation, airport pick-up, orientation, pre-departure booklet and 24x7 in country staff support. You will need to cover your personal expenses, such as traveling, telephone, the internet, shopping, sightseeing, return airport drop, weekend tours etc. You should carry around $50 - $60 per week for your basic personal expenses, such as water, local transport, phone etc.

On arrival in Accra, you can change your currency to Ghanaian Cedis (GHS) at the airport. There are many currency exchange counters at the airport. Also, there are ATMs available throughout the city. Mostly Visa and MasterCard are only accepted in some parts of Ghana.
Still have Questions?
We're always here to help.
Get in touch whatever way works best for you.